Sant'Anna Institute is recognized for excellence in the field of
Italian language courses
for adult students coming from all the countries of the world, and
study abroad programs
in partnership with American Universities.
Sant'Anna Institute offers
individual and group Italian language courses
, as well as tailor-made programs for students with particular requirements (e.g. preparation for enrolment at an Italian university, Italian for business… ), online Italian lessons, cultural courses (e.g. cookery, ceramics, literature, art… ), and teacher training programs (
DITALS
), all in the friendly, sun-kissed town of Sorrento.
People from all over the world come here to learn italian - 2018 Excellence Award
ITALIAN LANGUAGE COURSES
Our Italian language courses in Italy, in Sorrento, run all year round with a programme divided into 6 levels, according to the Common European Framework,
from absolute beginners to advanced level
(A1-C2). At the end of each course, students receive a certificate of attendance.
Sant'Anna Institute is an authorized
CELI
test centre.
Sant'Anna Institute – Sorrento Lingue Srl. does not discriminate in its educational programs or activities on the basis of race, color, national or ethnic origin, ancestry, age, religion or religious creed, disability or handicap, sex or gender (including pregnancy, sexual harassment and other sexual misconduct including acts of sexual violence such as rape, sexual assault, sexual exploitation and coercion), gender identity and/or expression (including a transgender identity), sexual orientation, military or veteran status, or genetic information. Discrimination is not tolerated at Sant'Anna Institute – Sorrento Lingue Srl. and goes directly against the Institute's core values, which include a commitment to equal opportunity and inclusion. All Sant'Anna Institute – Sorrento Lingue Srl. employees, faculty members, students and community members are expected to join with and uphold this commitment.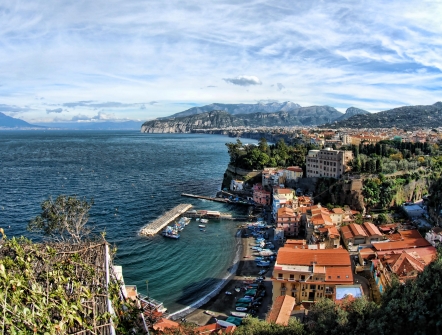 WHY choose SORRENTO?
Sant'Anna Institute offers their students of Italian language an opportunity to experience the unique culture, customs and climate of southern Italy.
Sorrento is situated on the west coast of Italy, twenty miles south of the city of Naples, on the spectacular Amalfi Coast.
Within easy reach of Sorrento are the:
• Stunning islands of Capri and Ischia and the beautiful villages of the Amalfi Coast (Positano, Amalfi and Ravello).
• Baroque splendor and world-famous collection at the National Archaeological Museum in Naples.
• Majestic Greek temples at Paestum and historic Roman ruins of Pompeii and Herculaneum.
• World's best known volcano, Mount Vesuvius.
Latitudine: 40.627644 | Longitudine: 14.36771